OK, I have five minutes to blog. YAY! :)

In the last two weeks, my husband was in a wreck and our cute little red car was totaled. Thankfully, Jeff was not seriously hurt. He did get a little banged up and we had to have some xrays done on his shoulder and he missed about half of a week of work but he is on the mend and back to aggravating Maddie and I. So, we know he is gonna be ok! :)

We had a great Halloween and Maddie had a blast trick or treating. She has been studying the Asian cultures and just had to be a Geisha girl and I thought she turned out pretty cute. She even won a costume contest at our church and of course, she loved that!

Here are a few pics. . .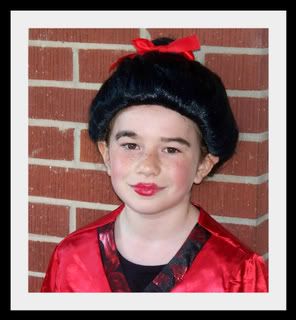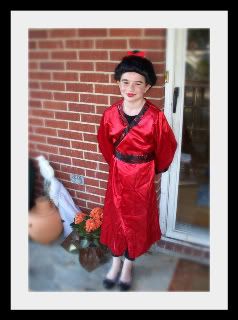 We also had a great Veterans day and my parents and I met Maddie at her school for a mini parade. The school had asked for veterans to participate and to walk in their parade so my dad obliged.
Maddie was able to walk with him and was tickled pink about that.
She is definitely a papa's girl!
My batteries were dead in my camera so I was not able to get any pics but we really did have a good time!


I hope everyone has had a great couple of weeks too!

I can hardly believe Thanksgiving is right around the corner!
We are slowly getting ready for the holidays, how about you? Are you ready? :)