Better late than never, right?
Just wanted to hit on the highlights of our Christmas and New Year's.
Christmas was spent at my in laws in Pawley's Island and was a blast, as usual. We always have a great time and this year I faired much better at the Chinese gift exchange than I did last year.
I guess you could say I learned my lesson! Anyhow, I ended up with a HUGE apothecary jar that I absolutely love! I will have to take a quick pic later.
I did get my Ugg slippers and they are a little piece of heaven on earth, Jeff loved his as well! He was very excited to get them and wears them every chance he gets. Honestly, I do too and quite frequently I wear them to drop Maddie off at school. LOL
Anyhow, we were VERY blessed this year and I do believe Maddie got everything she asked for and more and was soo very excited to get her laptop. She was DEFINITELY surprised!
In fact, I tried to get a pic of her facial expession. This is the best I got.
She was and still is soo stoked about it and thinks she is something else. LOL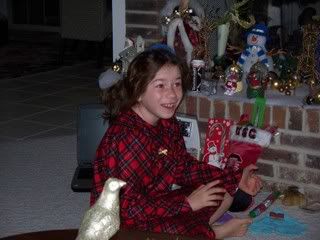 My parents even went with us to my inlaws and they really had a great time. I am hoping that we have started a new tradition. It was nice to not feel so torn as to whom we are spending Christmas with. They really seemed to enjoy themselves so my fingers are crossed that they agree to go again next year!
Oh and then we played a game of Catch Phrase. OMGOSH, that was soo fun! If you have never played it, I HIGHLY recommend it and honestly the more people you have the better!
New years was really low key. We actually went over to some friend's, ate take out and played on the Wii. Such party animals, aren't we? :)
Actually, we had a great time and it was a great start to a new year. We are so blessed to have such good friends and family. I hope your holidays were wonderful as well and I hope this new year holds many wonderful things for you and is your best year yet!
Oh and lastly-as Jeff says it "I got my hair did!" and I LOVE it!! It was way overdue and the girl did and amazing job but how come I can never make it look this good?! LOL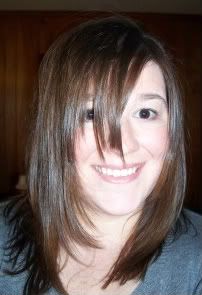 Maddie, (I love that kid) told me I look like a rock star.
Totally made my day! :)