It's that time again. . .
You know, new clothes, new school supplies, new teachers and car wrecks in the car line. ( I so wish I was kidding, but I am not).
Anyhow, my sweet girl started 4th grade today.
She was all decked out in new duds from head to toe, carrying a new book bag and sporting a new do. Is it weird that I can still rememeber what I wore my first day of 4th grade too?
Anyhow, she has been so excited to start this year b/c she got an amazing teacher and her bff is in her class, this year. So, lots of stuff to look forward too!
Here she is, before we headed to school.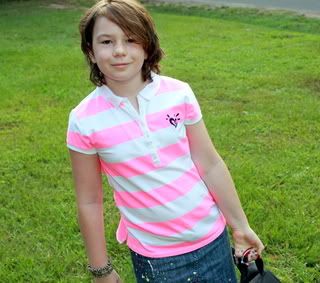 We woke up a bit late, (it takes us a couple of days to get back in the routine) so her hair was still a little wet but I still think she looks super cute.
Hope all your kiddos have a wonderful 1st day, as well!