Christmas!
I heard
Kimba
was having a party and I wanted to play.

So, here are a few pics of my decor. We are definitely a hodge podge family but I love it and wouldn't have it any other way.

Here is our tree. I was a good mama this year and let Maddie decorate it all by herself.

Boy, was she proud of herself. :) I happen to think she did pretty good for a nine year old, don't you?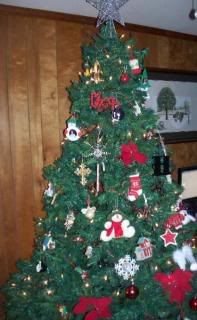 I have to admit that I had to fight myself from fixing it b/c I can be a bit anal at times. LOL


Here are some close ups of some of our recent ornaments and some of our fave ornaments
.
This is the newest addition to our family. His name is Kringle and he is an
Elf on the Shelf
. He reports back to Santa on a nightly basis and moves from place to place in our home. He is a new tradition in our home and we have enjoyed seeing where he pops up each morning.

If you hadn't heard of the
Elf on the Shelf
, you should check it out.
It's really a cute and fun idea. I wish we had started this years ago!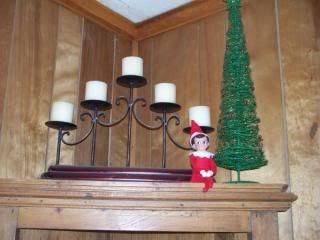 I found these apothecary jars for $5.00 the other day (YAY!) and needed something Christmas-y to put in them. So, I pulled out some curling ribbon and stuffed it in there. Gave me just the pop of color, I was looking for!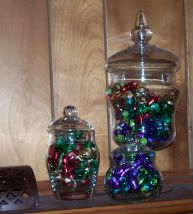 I have had this Santa forever. He is one of those that swings his hips and sings.
Maddie used to love him when she was little. He is a little outdated but I don't have the heart to get rid of him plus, he is still pretty cute.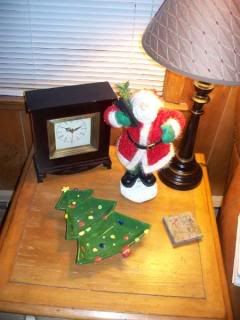 I evidently have a thing for Santas because here a couple more.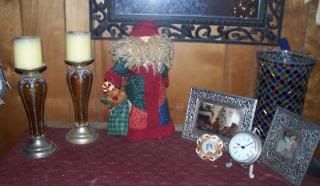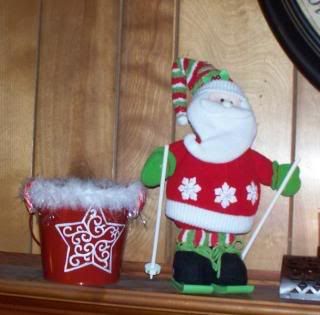 Here are my fave snowmen with a few HUGE Christmas balls stashed behind them. I originally bought the balls to decorate my wreath with but they are WAY to big. So, I stuck them up above my tv behind my snowmen. Gives it a little splash of color up there.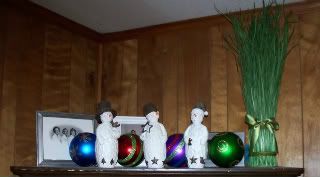 Lastly, here is my advent garland I was soo excited to find. I had been eyeing something very similar in Garnet Hill but could not pay $78 for it. It was cute but not that cute!

So, when I found this at World Market for $14.99 I was stoked and I happen to think it's just as cute!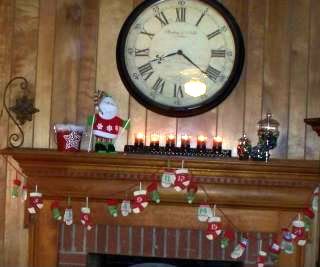 Oh and I can't forget about my neat star I found that lights up!

I love this and this picture does it NO justice!
I think I will keep it up year round. I love it, I wish you could see how pretty it really is in person.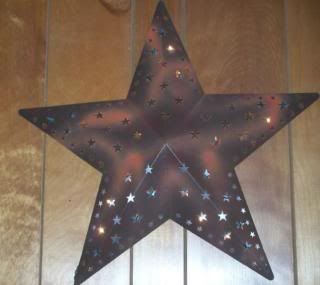 Thanks for looking, now I am off to see your holiday decor.
Merry Christmas!!