Had a GREAT time, did nothing but hang by the pool and eat out. It was HEAVEN! :)It was a bit windy, but it was still nice. The wind kept it from being so incredibly hot. Maddie, my little social butterfly made a friend from New Jersey. Which didn't surprise me b/c she never meets a stranger, she definitely gets that from her daddy. Anyhow, they exchanged numbers and addresses and I hope they keep in touch. She really was a sweet little girl. The hotel we stayed in had it's own little water park, pool, jacuzzi and lazy river (my fave!). So, we literally hung by the pool ALL day.My dad would take Maddie to the ocean from time to time. He bought her a boogie board so she thought she was something else! She had a blast and wanted to swim from the time we got up until it was time for dinner. We even hit the pool after dinner for a bit. Anyhow, I did manage to take a few pics. There was a Jamaican lady there that did hair wraps and braids and for as long as I can remember Maddie has wanted hers done. So, this year we indulged her. Poor thing, I know it had to hurt sometimes. I could see her wince a time or two but she managed to keep up a brave front.




Here is a pic of Maddie and her new friend. Her friend also had her hair braided. Actually, a lot of the little girls there did.





A view of the beach, I like all the different colors of the umbrellas.




A quick shot of the hotel.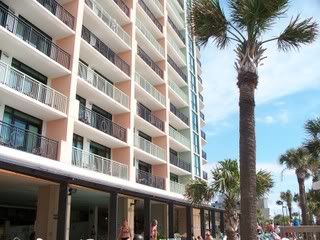 A view of the beach from our balcony.





Maddie and friend going down the Lazy River.


We really had a good time so thanks Mom and Dad for the invite.
I got some sun and was able to chillax a bit and I can't wait to do it again! Hopefully sometime soon!